Welcome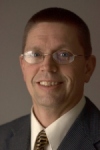 Thank you for taking the time to find out about Medina Bible Church in Medina, Ohio!
The Lord opened my eyes to my great need of Him and brought me to saving faith in Jesus Christ through a tragic event that occurred my last year of college. From that time on, the Lord grew me in my love for Him and for His church. Even as I worked as an engineer in the fiber optic industry, the Lord was granting me many opportunities to evangelize others and serve in my local church. A major transition occurred in 1996 as the Lord granted me and my wife the privilege of being sent out by our local church as missionaries to Poland. It was there, while ministering alongside Polish believers, that the Lord placed a great desire to become a pastor. By God's grace, I was able to attend the
The Master's Seminary
and serve as a pastoral resident in children's ministries at Grace Community Church. After getting my Master of Divinity degree in 2004, my wife and I served once again as missionaries to Poland until 2007. In 2009, the Lord moved us to Chilliwack, BC, Canada where I served as associate pastor, helping the church with administrative oversight, youth ministries, discipleship, Biblical counseling, and occasional teaching. In January of 2013, I completed church planting and church redevelopment training at
Grace Advance Academy
which eventually led to me being called by the Fountain of Grace as their pastor. I began serving the Fountain of Grace Church ministry in Medina in January 2014. In February of 2017 we officially changed the name of the church from Fountain of Grace to Medina Bible Church.
When I am not preaching and studying to preach, I love spending time with my beloved wife and the six children that God has given us. I like to ride bikes, hike, play hockey, and just about any other sport that my family is playing. My family and I would love the opportunity to meet you personally at our worship service so please come check us out. I hope to see you there sometime soon.
Rejoicing in Jesus Christ,
Pastor Mark Rice